1883
Yellowstone
The Reason LaMonica Garrett Gets Emotional Whenever He Thinks About His Role In 1883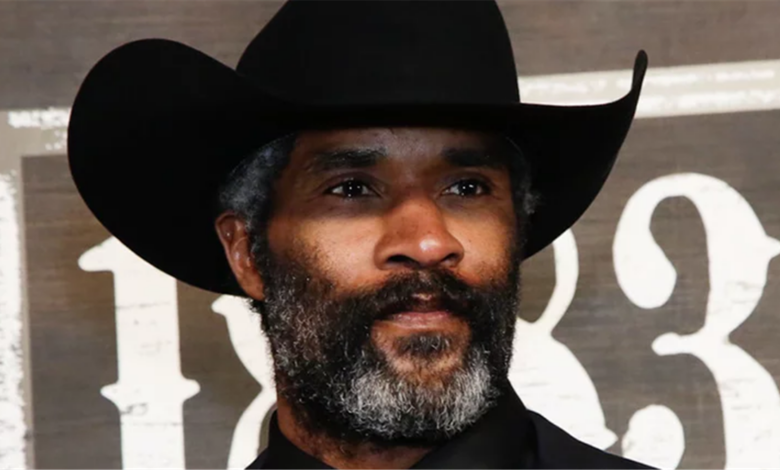 "Yellowstone" fans are about to get a glimpse into the Dutton family's past in the new Paramount+ series "1883." Starring Sam Elliott, Tim McGraw, and Faith Hill, the origin story follows the 19th-century Duttons — with McGraw and Hill portraying the grandparents of John Dutton (played by Kevin Costner on the original series) — as they treacherously travel west on a wagon train to acquire land that will become the largest cattle ranch in the United States.
Leading the expedition is Elliott's Shea Brennan, whose right-hand man is played by LaMonica Garrett ("Sons of Anarchy," the CW's Arrowverse). It's a role Garrett feels very fortunate to play, especially as a Black man portraying a cowboy in a leadership role.
"In the past, a character like Thomas was traditionally written for white stars," says Garrett. "These roles weren't written for Black actors. Yet there's a rich history of black cowboys throughout history — how the west was won, recreating the frontier, they were there. And oddly enough, throughout Westerns on television and in films, you didn't see them."
Now, prominently representing a Black cowboy on a potentially huge show like "1883" has left Garrett thinking about his place in history. During a recent roundtable interview that included Looper, Garrett explained why he gets so emotional when thinking about his role on the series.
LaMonica Garrett is one of very few Black actors in the opening credits of a Western
Black representation in film and TV has been a hot-button issue in the entertainment industry in recent years. And while strides have been made, there's a still a long way to go. But Garrett hopes his role as Thomas in "1883" helps move the needle in the right direction.
"Representation is important," he says. "And me being the one to bring this to light in such a strong role, in such a strong piece like '1883,' I get emotional every time I think about it. One day my son is going to look back like, 'My dad was one of the second Black cowboys to have his name and picture as a star when the episode came on.' The last time that happened was 1968, I think, with Otis Young in the show 'The Outcasts.' And it hasn't happened since then. But there was one time before that in 'Rawhide,' when Raymond St. Jacques, I think, had his name appear and there was a sketch drawing of his face. So, there's only been two, three, maybe four Black co-stars in Westerns that had their picture and their name [in the opening credits]."
And now, Garrett can add his name to the list. "When I saw the first two episodes a couple of weeks ago in Amarillo — we shot it, so I obviously know what's going to happen — but when I saw the opening credits, I lost it and I cried for two straight hours. So, it means a lot to me and I hope I'm doing it justice."
"1883" will debut its premiere episode on The Paramount Network and Paramount+ on December 19. Paramount+ will be the exclusive home for future episodes.