Yellowstone
Yellowstone Creator Taylor Sheridan Had Real-Life Inspiration For Teeter's Infamous Biker Gang Fight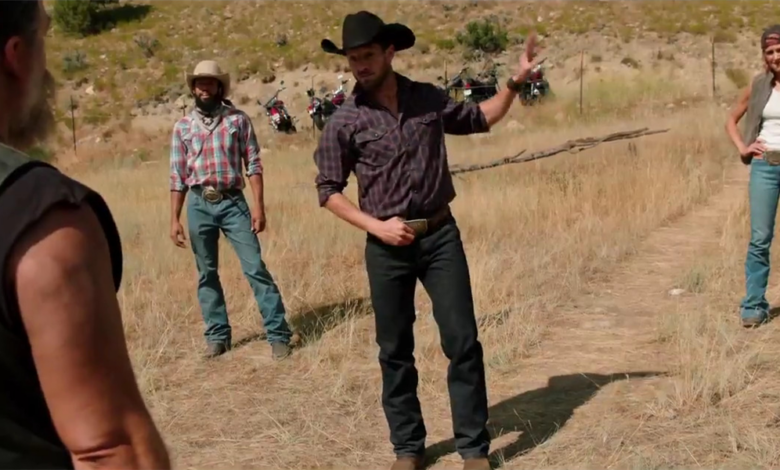 Seeing as it's a modern-day western following a family of ranchers, "Yellowstone" appropriately fits in its fair share of fights and brawls every season. It's par for the course for the show. One brawl that stands out from all the rest is when John Dutton's (Kevin Costner) ranchhands found themselves at odds with some out-of-state bikers who didn't much care for property lines.
After the bikers are scared off Dutton's land, they return only to find Dutton waiting to make them dig their own graves. The episode, titled, "Going to Cali" ends with the bikers agreeing to never return to Montana. The fight scene itself gives some "Yellowstone" ensemble characters their chances to shine as they swap punches. Among them, Teeter (Jen Landon) gets especially vicious, body slamming one woman to the ground and gifting a man with a nasty-sounding arm bite when he tries to grab her from behind.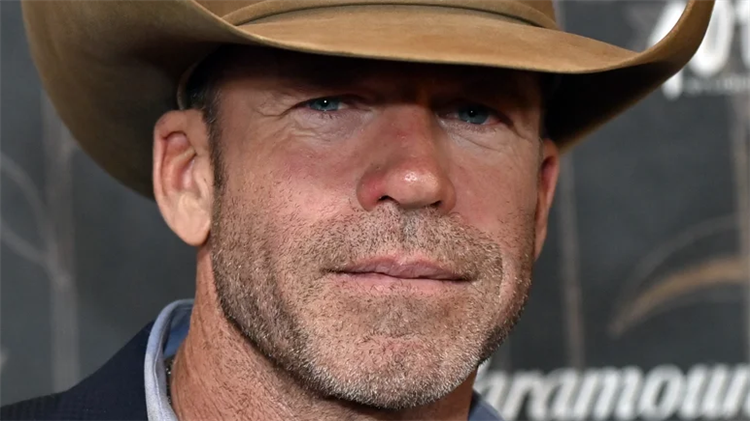 Teeter had her doubters when she joined the Yellowstone Ranch. There aren't many females to be seen on the ranch, but she quickly ran circles around everyone and even earned an invitation back to the ranch after Dutton realized his error in firing her following an attempt to ban women from the bunkhouse. The in-fighting on the ranch had nothing to do with the young scrapper, and John Dutton invited Teeter back.
According to Landon, Teeter's scrappy fighting against the California bikers was something straight out of real life.
Teeter's moves were based on a fight the real Teeter was in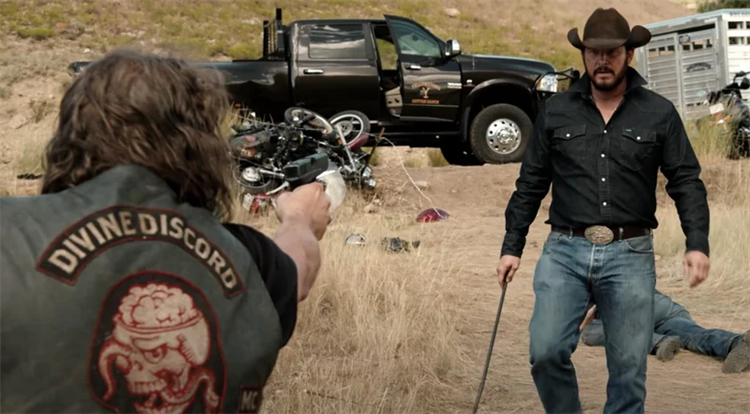 According to Jen Landon, Teeter deploying a body slam and an arm bite against a biker gang was based on a fight "Yellowstone" co-creator Taylor Sheridan witnessed in real life. Not only that, this fight Sheridan witnessed involved the person he partly based Teeter on.
"They were based on a fight that Taylor had seen with this girl that Teeter is based on, so move for move, that's where those came from," Landon told Vegas Film Critic during an interview (via YouTube). In the same interview, she called shooting the third season fight scene her favorite day on set.
Landon has spoken about Teeter's real-life origins in the past, though the character sounds like a good mix of real life and fantasy. The actress revealed in a 2020 interview that Teeter's signature pink hair is based on Sheridan's inspiration, but details like chewing tobacco came from the actress' audition (per Decider).
The bikers of "Going to Cali" may have only been stopping by the world of "Yellowstone," but they're a pretty regular part of Sheridan's work — along with the brawls they get into. For example, a gang of bikers acts as the primary antagonist of the first season of the Sheridan-created "Tulsa King." And before the filmmaker ever put pen to paper, he was acting in a little series centered on biker outlaws called "Sons of Anarchy" (via Deadline).